About DJ Mastermind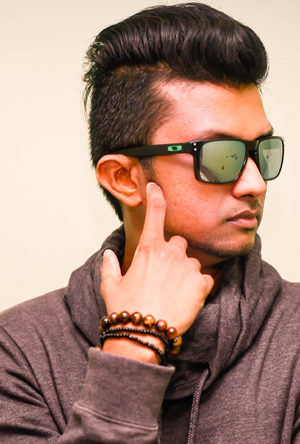 Born and raised in Royal Klang Town, DJ Mastermind discovered his passion for music at a very young age. He started spinning records back in 2009 and after his graduation from the Playaz Universe DJ Academy, he kick-started his turntablist career by playing gigs on both his home turf and on international shores.
Before long, DJ Mastermind gained the reputation as one of the hottest turntable talents in the Malaysian and international music scene.
With an average of three international shows every two months, Mastermind is the poster-boy for a "life on the road". UK, France, South Korea, Denmark, Switzerland, Singapore, Thailand, India, Sri Lanka – these are just few of the countries, where Mastermind has performed in the past.
As a DJ, Mastermind has established his standing as one of Malaysia's best, leading to his playing a key role in most hip-hop showcases in Kuala Lumpur. Internationally, he has demonstrated his turntabling skills time and time again by being the official DJ for opening acts for various international artists.
With both his career as a solo artist as well as his role as the official DJ for K-Town Clan, one of Malaysia's no.1 rap groups. DJ Mastermind has manifested his position as one of the finest and most passionate turntablists that lives and breathes music.
In addition to his performances and partnerships, DJ Mastermind has also expanded the Premier DJ Academy in Malaysia – a full-fledged school for DJs – by opening up a new teaching facility in London, U.K.
For further information about DJ Mastermind's accolades and credentials, you can either scroll down, where the facts will speak for themselves,
Accolades
Playaz Universe DJ Academy graduate (Year 2003)
Official DJ for K-town Clan (2009-present)
Ninjas Records (Production Team) – Founder
T.R.A.P (Tamil Rhythm And Poetry) (Independent Event) – Founder
M.Y Hip Hop (Independent Event) – Founder
Prodigy Lab Recording Studio – Founder
Premier DJ Academy – Founder
White Collar Crew (Advertising/Marketing Co.) – Founder
DJ'd a song in South Indian epic "Kabali", Malay Dub Version (2016)
Red Bull U.K Project Signed Artiste
Sony Music India Aalaporan Tamizhan Dance Remix
Sony Music Entertaintment
Main-stage Honour
Lil Jon (USA)
Grand Masterflash (USA)
Fatman Scoop (USA)
Raekwon & Ghost Facekilla from Wu-Tang Clan (USA)
Ishq Bector (Canada)
Honey Singh (United Kingdom)
HeadHunterz (Netherlands)
Anirudh (India)
Creations
Prodigy Lab
www.instagram.com/prodigylabmy
Prodigy Lab is a recording studio located in Bangsar, Kuala Lumpur, where jingles, voice overs, movie dubbing and all kinds of vocal or instrumental pieces are recorded.
Premier DJ Academy
www.instagram.com/premierdjacademy
An academy providing DJ courses, with a deep focus on the art of turntablism from basic mixing, scratching and advance.
M.Y Hip Hop
www.instagram.com/myhiphopfuture
www.facebook.com/myhiphopfuture
MYHipHop is a charity event organized by DJ Mastermind & crew to support both the music and the general public, who seek comfort in music.
T.R.A.P
"Tamil Rap And Poetry" is an event founded by Mastermind, and is mainly dedicated to showcasing independent local acts and giving them a platform, where they can demonstrate their capabilities and skills.
White Collar Crew
www.instagram.com/whitecollarmedia
www.instagram.com/itsworldwhite
White Collar Crew is an advertising company founded by Mastermind to support talents by promoting their music through different channels in the media. In its endeavor, White Collar Media & It's World White has provided a platform for many new talents to showcase their skills online and be noticed by an international audience.
Events
Rotaract Annual Dinner, Klang Jun 2009
Sasi The Don 'Music In Me' CD Launch, Mist Club KL Sept 2009
Amway International Annual Show, Bukit Jalil Stadium, KL Nov 2009
Malaysian Tamil Superstar, KL Oct 2009
Bomb Shelter at Cloth & Clef, Changkat KL, Nov 2009
ALC Charity Night, Klang Nov 2009
Unisel Charity Night, Shah Alam, Nov 2009
Ishq Bector (Canadian rapper) Live in Mist, KL Feb 2010
R Records Live at Laundry, KL Feb 2010
Penang Charity Night, Penang March 2010
Goodwheels Campaign, KL April 2010
Telekom Malaysia "TM Blockbuster Nation Tour", KL April 2010
Telekom Malaysia "TM Blockbuster Nation Tour", Seremban, April 2010
Dhol Federation Veshaki Celebration, KL May 2010
Telekom Malaysia "TM Blockbuster Nation Tour", JB May 2010
Da Monsta Album Launch, Arena Of Stars Genting Highland, July 2010
Measat Broadcasting Award (Astro), Penang July 2010
BAC College Charity Night, PWTC KL August 2010
Lim Kok Wing Music Award KL Feb 2011
Hotlink Show, KL March 2011
Aloud Asia KL, July 2011
Raising The Bar Fest KL July 2011
South Side JB Concert, Aug 2011
TM Blockbuster Nation Tour, Klang Aug 2011
K-Town Clan Album Launch Bentley Music Aug 2011
8tv Quickie Fest KL, Aug 2011
Octoberfest KL, Oct 2011
DIGI Roadshow (Malaysian Book Of Record) Oct 2011
TV3 Jom Heboh Concert, Bukit Jalil, Nov 2011
Youth Fest Klang, Dec 2011
Hitz.fm Kota Kinabalu Birthday Invasion, Dec 2011
Trap KL Jan 2012
Hitz.fm Birthday Invasion Putra Indoor Stadium, Bukit Jalil Jan 2012
Future Music Festival Asia, Sepang March 2012
International Hot Air Ballon Fiesta, Putrajaya March 2012
8tv Showdown KL-Live May 2012
MTV World Stage Sunway Lagoon July 2012
Pall Mall Elevate Launch KL Sept 2012
ABU International Music Festival Seoul, Korea Oct 2012
UrbanScapes KL Nov 2012
Star Cruise Radio TV Malaysia (RTM) Nov 2012
Youth Fest Klang, Dec 2012
Beyond 2000 Club, Labuan Sabah Jan 2012
Fatman Scoop (Opening act) Rootz KL Jan 2013
Think You Got Skillz Finale KL Jan 2013
M.Y Live in Moscow, Russia Feb 2013
Twin Towers @ Live KL March 2013
Zebra Club Kuching, March 2013
ReachOut iamyouth4u Taylor's Lakeside April 2013
PUMA Suede Launch KL April 2013
Ching It Out KL April 2013
8TV Word KL Live May 2013
Singapore Hip Hop Concert June 2013
GrizzleRhymes Singapore July 2013
Minnal Reality Denmark Sept 2013
Hitzfm Birthday Invasion Taylor's Lakeside Oct 2013
Youth Fest Prom Dec 2013
Rehab Sundaze The Pool Ampang Dec 2013
New Skool Leaders Launch, BlackBox Publika, Dec 2013
Psycho live in Penang, Dec 2013
Johnson & Johnson annual dinner Sunway Resort Jan 2014
Future Music Festival Asia March 2014
Fallen Soldiers of Hip Hop LaundryBar April 2014
Tapau Fest Penang, June 2014
Stussy KL Merdeka Eve Party Aug 2014
Inti Penang Cultural Night Aug 2014
FHM Girl Next Door Finale Aug 2014
KakiSeni Pavilion Sept 2014
Star Night Concert Denmark Oct 2014
Youth Fest Black or White, Dec 2014
BlackJack Concert Switzerland Dec 2014
Hitzfm Kota Kinabalu New Year Eve Party Dec 2014
Anirudh Live in Concert, Sunway Surf Beach Feb 2015
Public Service Roof Top Pool Party Sky360 KL Feb, March & April 2015
M.Y Throwback Publika KL, April 2015
India Embassy Medical Night, Chennai May 2015
Festival Belia Putrajaya (Ministry Youth & Sports) June 2015
Agni Concert, ChinWoo Indoor Stadium KL July 2015
Smiles Music Festival, Sarawak July 2015
Bombora Pool Party LunaBar Aug 201
World Dance Competition London, UK Oct 2015
Met10 Awards, KL 2016
My Colour Fest, Bukit Damansara Community Centre 2016
Vanakam Hip Hop, Colombo 2016
Rebelution show, London 2016
HoliFest 2.0, Inti International College Subang Jaya 2016
PirateFest, Inti International College Subang Jaya 2016
Us vs Cyberbullying, Dataran boulevard Petaling Jaya 2016
Digi Digital Day, Subang 2016
YouthFest, Klang 2016
Western Thalam, London 2016
Night Out, Paris 2016
The Back Theatre, London 2016
Jaffna Food Festival, London 2016
Penang Jazz Festival 2016
Neon Festival, Sunway Surf Beach 2016
Sid Live in KL 2017
Inti Music Fest, Subang 2017
BBC Radio, London 2017
Element Music Fest, KL 2017
SINDA Youth Day, Singapore 2017
AFO Radio Special Guest, KL 2017
IUKL Fest, KL 2017
Starnight3, Denmark 2017
Inti Nilai Cultural Night, KL 2017
AstroTv Guest Appearance, KL 2017
K-Town Clan Launch in Labuan, 2018
Multimedia University Cultural Night , Malacca 2018
University Technology Petronas Cultural Night, Perak 2018
DP Gaana Launch 2018
Red Bull TamilNadu Tour 2018
TNL Radio SpecialGuest Set, Sri Lanka 2018
AGNI KL Season2, Indoor Stadium KL, 2018
Club Events
Cloth n Cleth Changkat KL 2009
Mist Club, Bangsar KL 2009 & 2010
Maison Heritage KL 2010 Chynabar, Heritage 2010
Space Club, Heritage 2010
Neutral Club, Sultan Ismail 2010
Lop Club, Heritage KL 2010
Envie Club, Changkat KL 2011
Houz Club, Ipoh 2011
Vogue Club Mount Kiara 2011
Voltage, Changkat 2011
Gosh Club, Heritage 2011
Voltage, Changkat 2011
Maison, Heritage 2011
Hard Rock Penang 2011
Beyond 2000 Labuan 2013
Paparazzi KL 2013
Rootz KL 2013
The Pool KL 2013
Zebra Club Kuching 2013
Kings Club Heritage KL 2014
Frangipani Club Changkat 2014
Gatsby Club, Ampang 2015
Lust Club Changkat KL 2015
Nagaba KL 2015
Candy Club India 2015
Pasha Club India 2015
Ministry Of Sound (M.O.S), London 2015
Sultan Lounge, KL 2015
The Fabric, London 2016
Tunnel, Paris 2016
Prime Touch Luxury Club, KL 2016
Hip Hop Fest Pasha Club, India 2016
Zion Club, KL 2016
Gatsby 2000 Club, India 2016
Red Room Club, KL 2016
Elevate Club, KL 2016
TwentyOne Club, KL 2016
Play Club, KL 2016
Bar Atas, Bangsar 2017
ArteBar, TREC KL 2017
Esperance, KL 2017
KX Club, KL 2017
Egg London Club, U.K 2017
Winchester Club, India 2018
Arteba, KL 2017&2018
The X, Bangsar 2018
Marini's On 57, Kuala Lumpur 2018
Megaro Bar, London 2018