Gary Arwin A Malaysian Sneaker head.
---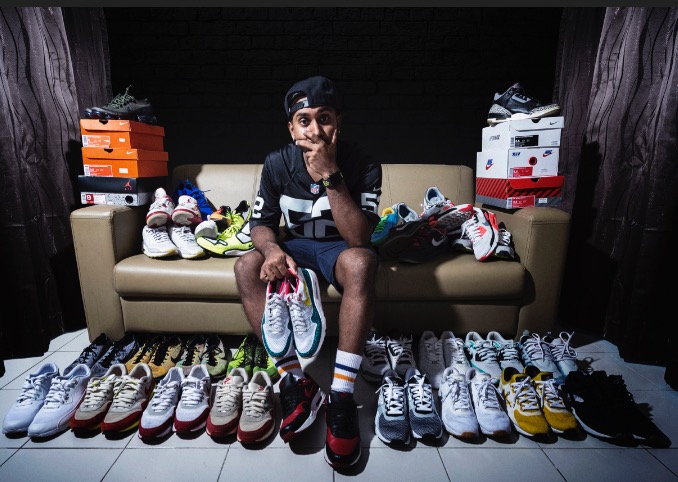 Just recently we published a write up about Fusion of Artistry, Sneakers & Hip Hop, today we are featuring an influencer based in Malaysia, heavily caught up in the craze for kicks. Gary Arwin a Malaysian Sneaker head, hailing all the way from the southern district of Johor Bahru where his hobby evolved into a passion.
Background Details;
He got first his pair of sneakers at the ripe old age of 16. This passion evolved as a massive part of his drive with the hip hop and rap music era and the undisputed B-Boy influence. Dancing quickly became an imperative part of his life. His main idols Rock Steady Crew and Battle Phatnatics, were idolised for their mad skills and their style influences. Gary quickly began to catch the trend of rocking just a sweatshirt with sweats and a timeless shoe that has never faded in any memory the Adidas Superstar. It inevitable became a mission to find a pair of these timeless kicks and from then on the rest was history: collecting kicks became a passionate addiction.
However, a slight challenge rose as it was difficult to find his ideal kicks in the area which Gary was growing up. The pursuit of passion led him straight on a bus, and he hopped onto a train to Singapore upon crossing the border and reaching the store Gary was surprised to find that the pair of shoes costed way more than he had expected, and he'd exhausted all his cash he had in hand. Not being familiar with the road or public transportation in Singapore, he carved his own memories in those streets, finding his way back to he checkpoint by foot.
Gary's hunting algorithms remain a mystery however, it is advised to have a friend in the region to help with purchasing the shoes, taking into consideration demand and availability. He would also practice researching online and making friends with people who share the same craze.
A pair of classic Jordans would easily cost between RM500-800 a pair, straight off the shelf. Resale prices can easily reach a sky rocketing double the value.
Gary's household revolves around a middle-class family, where they were brought up in earning whatever they wished to pursue. With time, he got himself a job and practiced the safe route of effective financial management, in attempts of purchasing his dream pair of kicks at the time. To date, Gary owns a total of 80 pairs of sneakers – where he gave away most of his collections during a move 2 years ago, but kept his top picks for himself.
His collection entails his top 3 favourite pairs of kicks;
Air Max 1 Masters

Air Max 1 Bred

Air Max 1 3.26 (Air Max Day Edition 2014)

The recent purchase of his Air Max 1 Masters stands as the undefeated champion. The Air Max 1 Masters is a limited edition series that was close to impossible to purchase or locate domestically. The exclusive shoes has several colour ways, with great stories linked to it from Kid Robot to OG Reds, and Blues to Safaris.
Gary swears by this passion as a pivotal part of his life from starting his day right, to a major confidence booster. He even attempts to fix his hair in accordance with his kicks of the day. In a nutshell, Gary is one who firmly believes in starting his day on the right foot quite literally.
"People have many different reasons to collect shoes, but don't buy it just coz of the hype out there. Know the stories behind them, pick the ones that you really like and be able to rock em." Gary quotes.
Check out on more Gary's collections on his instagram @ garyarwin.