Gold Turntables who's worthy?
---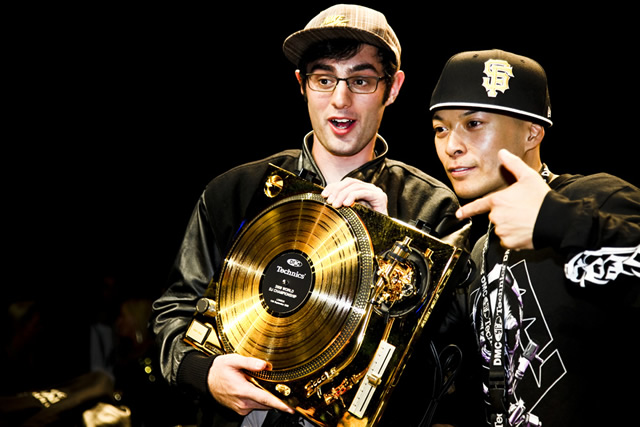 Gold Turntables who's worthy?
The history of DMC which is Disco Mix Club founded by Tony Prince and is the home of the World's Biggest DJ competition being the preeminent showcase for DJ talents across the globe.
Throughout this competition DJs are allowed a period of exactly six minutes to perform and showcase their individual talents.  
Kickstarted in 1985 by a young Londoner, Roger Johnson who won the first event which unfortunately was not recorded and hardly featured a scratch the venue was the Hippodrome, popularly known one of the hippest premier and largest club at the time. 
The showcase was intended to be a DJ Mixing Battle but the plot took a twist when DJ Cheese introduced scratching in his routine in DMC's first ever World Title in 1986 permanently changing the course of all upcoming future DMC battles. This resulted in dissatisfaction amidst runner up, Holland's Orlando Voorn wherein he grabbed the mic from the events emcee and founder, questioning "What is this, a mixing competition or a scratching contest?"
"You can't buy an award just to get self reward" 
Fast forward to 1989, DMC and global sponsor Technics introduced the first ever Golden SL1200 Turntables a unique and glorious prize given to newly crowned DMC champion the U.K.'s Cut Master Swift who mixed and performed his way to championship and hit the winning streak as the champion that year. Since then, the Technics Golden SL1200 Turntables has remained a traditional prize for DMC World Champions.
DMC DJ Rane became involved with the sponsorship of U.S.A DMC events in 2001, and proceeded to become a sponsor with DMC World in 2008. Rane views DJ mixers as a DJ's pivotal musical instrument. The DMC DJ's strive to push products whilst breaking barriers and crossing limitations in the showcase their musical talent.
Initially, the traditional prize for DMC World Champions was a pair of gold Technics turntables but when Panasonic discontinued the production of their classic 1200 series turntables, Rane stepped up and took matters into his own hands by building one-off gold mixers to be used as the DMC World Championship prize. 
The following is a list of the previous winners across the years;
1985 –

Roger Johnson

(U.K)
1986 –

DJ Cheese

(U.S.A)
1987 –

Chad Jackson

(U.K)
1988 –

Cash Money

(U.S.A)
1989 –

Cutmaster Swift

(U.K)

1990 – DJ David (Germany)

1991 – DJ David (Germany)

1992 –

Rocksteady DJs

(

Mix Master Mike

,

DJ Q-Bert

, and DJ Apollo) (U.S.A)

1993- /1994- Dreamteam (Mix Master Mike and DJ Q-Bert) (U.S.A)

1995 –

Roc Raida

(U.S.A) X-Men / 

The X-Ecutioners

1996 –

DJ Noize

(Denmark)
1997 –

DJ A-Trak

(Canada) – youngest ever world champion aged 15
1998 –

DJ Craze

(U.S.A)

1999 – DJ Craze (U.S.A)

2000 – DJ Craze (U.S.A)

2001 – DJ Plus One (U.K) –

Scratch Perverts

2002 –

DJ Kentaro

(Japan)
2003 –

Dopey

(Canada)
2004 –

Ie.Merg

(U.S.A)

2005 – Ie.Merg (U.S.A)

2006 –

Netik

(France)
2007 –

DJ Rafik

(Germany)
2008 –

DJ Fly

(France)

2009 – DJ Shiftee (U.S.A)

2010 – DJ LigOne (France)

2011 – DJ Vajra (U.S.A)

2012 – DJ Izoh (Japan)

2013 –

DJ Fly

(France)
2014 –

Mr. Switch

(U.K)

2015 – Vekked (Canada)

2016 – DJ Yuto (Japan)
"More than 3 decades of this DJ battle & so far we only had 3 world champions from Asia who has won the tittle & all these 3 Ninjas are from Japan"
Here is the winning set by DJ Yuto from Japan for 2016 DMC World Championship
Who will be the next DMC Champion for 2017?