Dev college dropout whom became a successful entrepreneur
---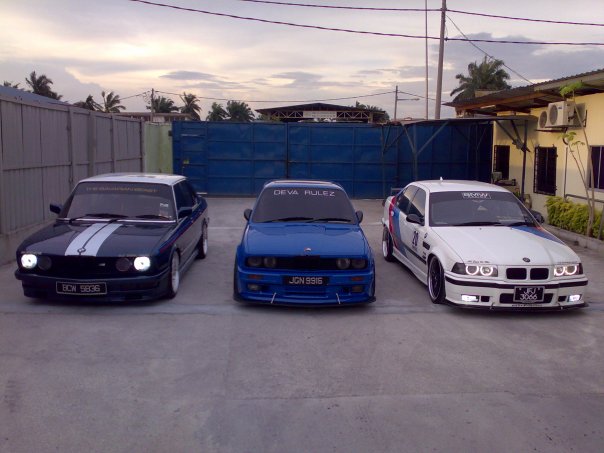 This is an actual story of a college dropout whom became a successful entrepreneur and an influencer pursuing his dream and passion towards car modification.
It started at the age as young as 8 years old, where he grew up with his maternal grandparents. His inspiration came from his late grandfather as every Sunday he would tagged along with his late grandfather for a drive to meet up his group of friends who had a common hobby which is car modification. At that time his late grandfather owned a BMW Coupe and a Mercedes Benz. He told himself then, one day he will own his very own BMW .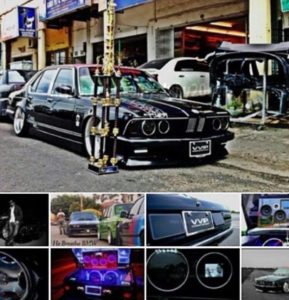 A little bit about Deva Subramaniam well known as Dev to everybody. He came from a small average living family with 4 siblings. Father as a labourer and mother a housewife. He started working part time at a mamak stall at the age of 15 years old to support himself through college. But after he got his diploma, he then decided to drop out of college as he couldn't afford to support himself to further his studies. Which was the only thing he regrets not doing.
He never would have thought that he would own a car before 25 years old but with God's grace, he managed to own his very first car at 18 years old, a Perodua Kancil 850cc. Most of the salary he earned working part time goes to paying his car off and remodelling it at the same time. A Perdana V6 was purchased when he got 19 years old thus by working hard and saving money, the next year he fulfilled his own dream by owning a BMW.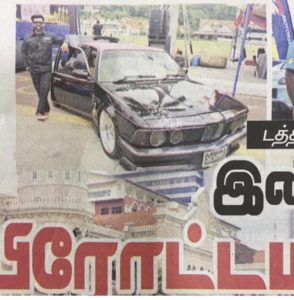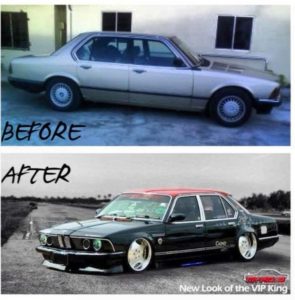 Started collecting cars at 18 years old, how he did it? 
Well, persistent is the word. Got his first BMW, as he came from a low average income family, his group of friends started doubting him that he wouldn't keep it up for more than 6 months.
Whatever happened, it motivated him to pursue his career. Dev has a sentimental value for every car he owns. The strategy that he did, he would get a car and remodelled it.  Meanwhile he would purchase another car for his everyday use as after he pimped up his car, he wouldn't use it often, just occasionally.
Till date he owns more than 7 cars 
Dev has been modifying cars for 17 years now. Exchanging ideas and car perception with his fellow friends who's in the same hobby. His cars gone through numerous car shows for 9 years now.
Every car he remodelled has a theme. Which led to his first big break where he built a classic BMW 7 series E23 with a concept of "Casino Royale". The classic BMW went through a make over with a 3 piece rims, did new body works, custom skirting, hydraulic suspensions, mini theatre system, small bar and even roulette! It got the attention from local car pimpers.
He had won 111 awards till date, has appeared on the covers of numerous newspaper and magazines from all parts of the world. First recognition came from a popular U.K. website in 2010, they posted his remodelled car with just that one post, it got over 20k likes.Second he appeared on a local Chinese newspaper.
Despite of all the success, his career went downhill.
He trusted the wrong people, broke at 28 years old. He did a lot of things that practically don't make any sense. Been disrespected and humiliated by many
Around that time, he realised those are genuine to him – family.
No matter how bad he got, he started his career with only RM1,made himself known at 25 years old. He never stopped working after what had happened, he pursue and managed to get back to his feet at 30 years old till now.
Top 4 priorities he had set for this year.
Family. Family is the only genuine people that will stick through ups and downs. Getting new cars, as nobody can separate him apart from cars. Health to be healthy to live as to take care of his family. Lastly, ensue his career further.
" I received a lot of messages saying I have inspired them. Thank you and those thing kept me working harder. But if I have inspired you make sure you be the double of me 😉 I'll be the first one to be proud of. I believe every car has a soul. My perception on car modification are simple, it's resemble you. It's your image how you do it, like an attire you wear to make your self look good..  So before you start to do, do your homework first I mean like what you want and how it gonna be. Secondly some ppl does modify their car to drive on daily base, if you do so then do it all legally whereby you won't be stopped by the road authorities. Those who wants modify your car for show purpose, pls have an another secondary car to be used as daily drive. See car modification is a culture and lifestyle of the youngsters around the world. Do it rightfully and make yourself look presentable 😉 doesn't matter what car it be I believe each cars has a soul. Safety first, make up next 🙂 my small advice"